Kalvin Phillips is confident that the support of England's knee-jerk players is in full swing ahead of Thursday's World Cup qualifier against Hungary in Budapest.
Hungary will play their two UEFA-host games behind the scenes accused of racism and homosexuality and governing body, where the third game is suspended.
The ban on sponsors does not mean the upcoming games in England, as the World Cup Qualifiers played under FIFA's control, the Puskas Arena will have more than 60,000 home fans because the England coaches could not make the trip.
The England players have vowed to continue bowing down before the start of the anti-apartheid and summer campaign in defiance of what their fans are heading for at the end of Euro 2020.
The Boos were slowly taken aback by the excitement as the audience grew larger and Leeds midfielder Phillips sees it as a sign that the players were right to stick their guns.
Global Monitoring Systems




Thursday 2 September 10:15 pm

"It's hard to say we're starting to win but we're going the right way," he said.
"The Middlesbrough weapons were frustrating and painful for us but over time, we talked a lot that we would kneel down and support our beliefs. I think a lot of fans understood this and did change the other side and continue to entertain us.
"Obviously I know about this [in Hungary] that's the way it has been there but it hasn't happened, so I can't say anything about it.
"I just know that we, as a group we know, will continue to bow down because it is important to us, it is important to our country and to address racial violence."
Although his assistants start behind the players on their knees, there is still much to be done to address discrimination after three England players were tortured after an Italian shooting at the end of Euro 2020.
Marcus Rashford, Jadon Sancho and Bukayo Saka were violence targets on social networking sites without their penalties.
When asked if his actions were exposed at the end of the last 55 years, Phillips replied: "No.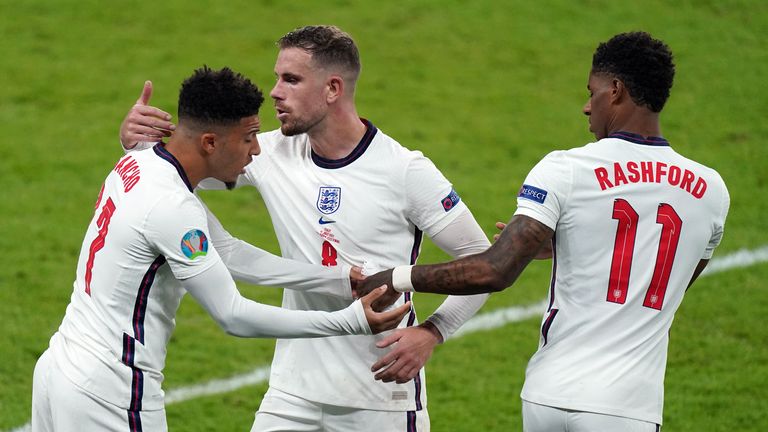 "Obviously it's out of our hands. If I could, I would be in charge of any social media or anything and I would just shut them up or tell the authorities.
"It's hard to do this and that's what we're striving for. That's what we have to do. For me, it's not just, playing my country.
"I want to make my family and my country proud, no matter what is going on outside. I would not allow things like this, but unless it is a great honor."
'We're all thinking of you right now' – Phillips comforted Saka
Phillips, who was named England's all-time leading scorer on Tuesday, is the first player to jump and comfort Saka after the Arsenal player missed a penalty.
"For me as a person, I feel like everyone is upset or whatever, I want them to be able to talk to me," he said.
"The way we lost the last one, especially for Bukayo because he is so young, on a big platform, I just feel like I have to go and comfort him.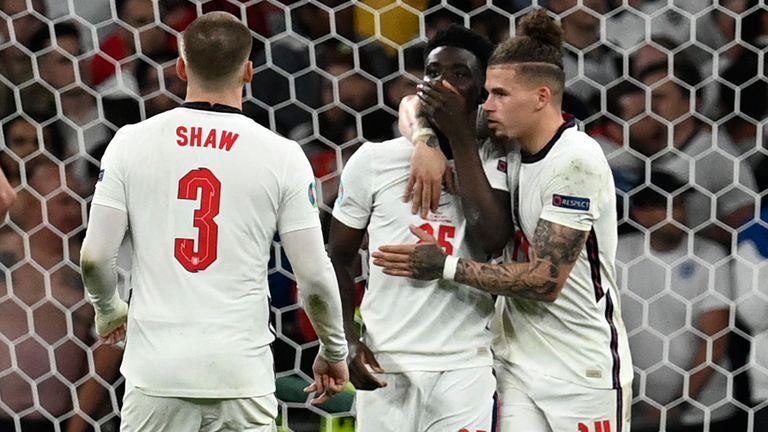 "I just said" don't worry about it. I said 'it happens in football.' I told him to 'raise your head up.'
"Obviously he was upset at the time but even after the game was over in the changing room I just said 'listen, that's how football is and if it was anyone else, we all do the same. Think of your country right now'.
!function(f,b,e,v,n,t,s){if(f.fbq)return;n=f.fbq=function(){n.callMethod?
n.callMethod.apply(n,arguments):n.queue.push(arguments)};if(!f._fbq)f._fbq=n;
n.push=n;n.loaded=!0;n.version='2.0′;n.queue=[];t=b.createElement(e);t.async=!0;
t.src=v;s=b.getElementsByTagName(e)[0];s.parentNode.insertBefore(t,s)}(window,
document,'script','https://connect.facebook.net/en_US/fbevents.js');
fbq('set', 'autoConfig', 'false', '1476975859286489');
fbq('init', '1476975859286489', {
em: 'insert_email_variable,'
});
fbq('track', 'PageView');